Five held over weapons found in Durrington pond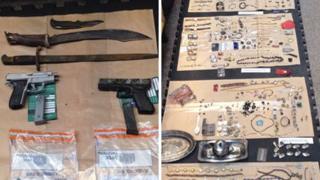 Five people have been arrested after 850 items including handguns, a machete and knives were discovered in a pond.
The weapons were found by police after a dog jumped into the pond in Whitebeam Wood, Durrington, West Sussex and emerged with a jacket and cufflinks.
The haul, including necklaces, rings and brooches, has been linked to six burglaries in the county.
Four men, aged 26, 24, 20 and 18 and a 17-year-old boy have been arrested following the discovery of the items.
They were bailed until Thursday, Sussex Police said.
Det Con Emma Fields said: "We believe most of the items in the pond were stolen in the last 18 months or so before being dumped there..."