Littlehampton flood defence work to finish 'late'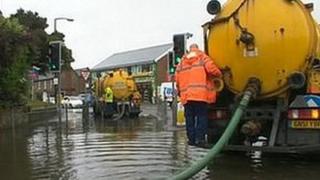 Flood defence works that have closed the busiest shopping district of a West Sussex town to traffic are due to be completed months behind schedule.
Pier Road and Arun Parade in Littlehampton have been shut off to traffic since October for work on a tidal defence wall on the River Arun.
Many traders there say they have seen a big drop in business as a result.
The £15m scheme was originally due to be completed this autumn but is now due to be finished by spring next year.
It is aimed at protecting up to 2,000 homes and businesses from rising sea levels.
The Environment Agency said the delay was due to bad weather over the winter and technical issues because the existing road could not support the weight of cranes needed to carry out the work.