Mary Shipstone fund to remember girl killed by father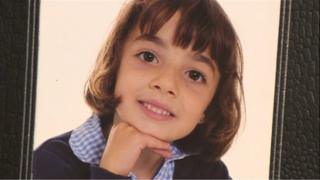 A fund to help children who have suffered from trauma has been set up in memory of a seven-year-old girl who was shot in the head by her father.
Mary Shipstone died of her wounds a day after she was shot by her father in Northiam, East Sussex, as she returned from school on 11 September.
Her mother Lyndsey Shipstone has set up the Mary Shipstone Memorial Fund to raise money for a children's charity.
She said she wanted people to remember her daughter's "little smiling face".
'Life snatched away'
Money from the fund will support Rye-based charity The Music Well, which offers music therapy to children who have suffered trauma.
She said: "Mary had her life snatched away from her so cruelly when there was so much promise, but I would like people to remember her little smiling face.
"She was such a happy child and I think that is the memory that will stay with people who knew Mary."
Mary was shot by her estranged father, Yasser Alromisse, outside her home in Spring Hill at about 16:00 BST on 11 September.
She died from her injuries at King's College Hospital in south London the following day.
Ms Shipstone also revealed that Mary's organs had been donated to five other children, including two babies.
"It was important to allow Mary to make the gift of her organs because she was such a healthy girl," she said.
"She'd never been sick in that way. I thought it would be a way of Mary living on in these children in some small way.
"It is a great comfort to know that other children will survive through Mary."
On Monday, Ms Shipstone recalled the horror of losing her "precious daughter".
She told BBC South East the family moved to Northiam from a women's refuge in Camber Sands after Ms Shipstone separated from her husband "due to domestic violence".
A police investigation into the shooting is continuing, and the BBC understands it will look at answering two key questions - how Yasser Alromisse came to acquire a gun and how he was able to discover where his family lived.
Both East Sussex County Council and Sussex Police will be sending information to the Safeguarding Children Board, which will then determine whether there should be a Serious Case Review.