Dinky Toy buses stolen in Burgess Hill burglary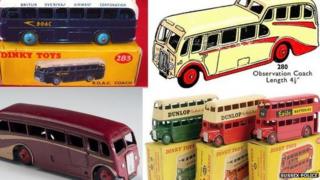 A collection of model buses worth hundreds of pounds were stolen from a house in West Sussex.
About 12 toy buses, most made by Dinky, were taken from display cabinets in a burglary at a house in Chanctonbury Road, Burgess Hill.
Most were worth £15 to £20, but one, a green Commer Harrington coach made by Mettoy, was worth £150 to £200.
Toy cars and a lorry, together worth £100, were also stolen.
A collection of costume jewellery was also taken from the house between 13 and 15 September.
Dealers in collectables and those who visit toy fairs are being asked to look out for the collection.
"These are all distinctive items which we believe may be offered for sale to dealers or other collectors," said Det Con Oliver Summers.
"They are asked to be wary if offered such models."