Hove Park academy plan rejected after protests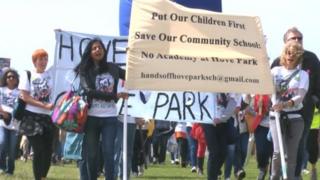 Governors at a Hove school have voted against converting it to an academy after protests by parents and teachers.
Hove Park closed for one day in July because of a strike by members of the National Union of Teachers (NUT), which objected to the plan.
Head teacher Derek Trimmer said the level of opposition to the academy proposal meant the time was not right to change.
Parents' and teachers' representatives said they were delighted.
The governors wanted to convert to academy status, with Hove Park as the lead school in a multi academy trust without an outside sponsor.
'Unrest and disruption'
"The decision of governors to vote against the proposed academy status was the right decision at the right time," Mr Trimmer said.
Sharon Duggal, from Hands Off Hove Park School, said: "We are absolutely thrilled that the governors have finally listened to the community and rejected this proposal."
Paul Shellard, secretary of Brighton and Hove NUT said it was not in the interests of students to become an academy.
"We think that schools working together across a local authority area means that everyone can benefit and greater progress can be made," he said.