Brighton bins dispute: Further strike dates announced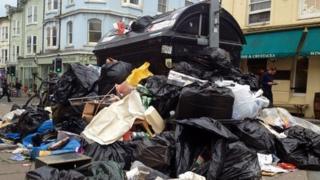 Three more strike dates have been announced by the union representing refuse and recycling truck drivers in Brighton after talks failed.
It is part of a long-running dispute with the city council which says it is unable to meet the union's demands.
Members of the GMB union took part in strikes on 12 and 15 September over pay, staff grading and responsibility.
Workers will strike again for 12 hours on 25 and 30 September and 3 October in conjunction with a work to rule policy.
'No other option'
The council said it hopes to resume talks next week.
Geoff Raw, the council's executive director for the environment, development & housing, said: ''We met with GMB representatives and we will continue our discussions next week to seek a resolution to the current dispute. "
Mark Turner, GMB Branch secretary, said: "We have once again re-iterated to management we do not simply seek more money for the position or grade that drivers currently hold, but if they incorporate the additional personal and operational management responsibilities into the drivers' role, they would see an improved, more efficient and cost effective service."
He said he hoped residents would continue with the "high level" of positive support and comments and the union had been left with "no other option".
The union is claiming people at the council are doing equivalent jobs to its members, but being paid more.
It also said the authority had failed to "consult meaningfully" over new working practices and long-standing issues over round allocation and distribution.
A series of strikes last summer led to waste piling up in the streets.
The GMB said it had been trying to resolve the dispute since April.