Man dead and girl shot in head in Northiam 'domestic incident'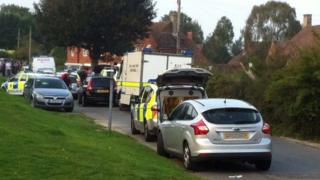 A young girl has been shot in the head and a man thought to be her father has been found dead in East Sussex.
Police said it was a domestic incident and do not believe anyone else was involved. They are not treating the death as suspicious.
She was shot in Spring Hill, Northiam, at about 16:00 BST and is in a "life-threatening" condition.
The primary school aged girl has been taken to King's College Hospital in London.
Armed officers who went to the scene after reports a gunman was at large found the man's body in a car parked outside the address.
The area around Spring Hill has been sealed off by police investigators.
'Tragic domestic incident'
Sussex Police confirmed the girl and the man were known to each other.
A neighbour at the scene said he believed the girl's father was involved.
Ch Supt Neil Honnor said: "We are treating this as a tragic domestic incident and do not believe that anyone else is involved.
"At this stage we are not in a position to confirm the relationships of all those involved but we can say that the girl and the man knew each other.
"The man does not live at the address.
"We are treating this as an isolated incident and there is no evidence that any other members of the public are at risk."
Villager Anthony Burr said: "At round 4pm, I came back and heard what I thought was a firearm about 200 yards from our house."
---
At the scene
Simon Jones, BBC South East reporter
I understand the body of a man, believed to be her father, is still at the scene. That's why the police cordon is still in place.
Sussex Police have been speaking to local residents, partly to get information about the incident, but also in an attempt to reassure them.
The key message they have been trying to get out is that the incident has been contained.
People I have spoken to have been shocked and surprised by today's events and are all desperate to hear how this little girl is doing.
---