South Downs National Park oil drilling bid rejected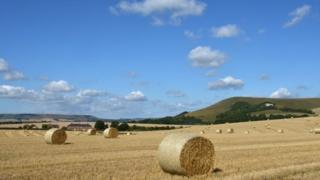 Plans to carry out test drilling for oil and gas in the South Downs National Park in West Sussex have been rejected.
Energy company Celtique Energie had applied to conduct the exploratory work at Nine Acre Copse, near Fernhurst.
South Downs National Park Authority's planning committee unanimously rejected the firm's application on Thursday.
The decision has been welcomed by green campaigners but branded "subjective and unjustified" by Celtique Energie CEO Geoff Davies.
Mr Davies claimed operators were being "deliberately prevented from exploring in the south-east of England".
"We are disappointed by today's decision by the South Downs National Park Authority (SDNPA). However, we are not surprised, given the SDNPA's public stance regarding oil and gas exploration in National Parks, both in Sussex and elsewhere," he said.
"The decision fails to take into consideration the importance of this project to the nation and the comprehensive steps Celtique would be taking to ensure that all exploration work would be done sensitively during the very temporary period we would be working in the national park."
'Considering our options'
He added: "We believe this proposal would be supported by the Planning Inspectorate or the Secretary of State in the event of an appeal.
"We are considering our further options and will make a decision in due course."
Planning officers had recommended the application for refusal.
Brenda Pollack of Friends of the Earth welcomed the decision by SDNPA.
"This is a victory for common sense - there should be no place for shale oil or gas exploration in our national parks," she said.