Brighton and Hove refuse drivers vote to strike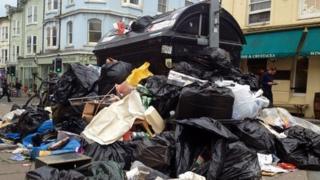 Refuse and recycling truck drivers in Brighton have voted to take industrial action in a dispute over pay, staff grading and responsibility.
The GMB union said from Friday there would be continuous "action short of a strike" and a one-day strike on Monday.
Spokesman Mark Turner said the GMB had been trying to resolve the issues with the city council for the past 20 weeks.
The council said it was disappointed by the decision, and the action would inevitably cause disruption.
The union said there were people doing equivalent jobs in the council to its members who were being paid more.
'Fair and equitable'
It said the council had also failed to "consult meaningfully" over new working practices and long-standing issues over round allocation and distribution.
It also claimed that drivers were being "unfairly harassed and removed from rounds outside of council policy and procedures".
Mr Turner, branch secretary, said it was "unfortunate" the people of Brighton and Hove would see the service affected "for weeks or even months" as a result of the action.
He added that further strike dates were possible.
In a statement, the council said it believed its allowances system was "fair and equitable across the whole organisation".
"We have asked the trade union to postpone action and are keen to keep discussions going to try to avoid this action if at all possible."
A series of strikes last summer led to waste piling up on the streets.