Ten on Gatwick-bound plane injured during turbulence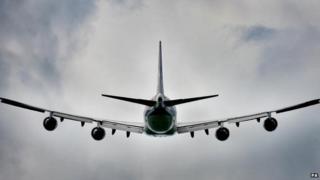 Nine passengers and a cabin crew member on a packed jumbo jet were injured due to "a brief period of severe turbulence", an Air Accidents Investigation Branch report has found.
The London-bound Virgin Atlantic Boeing 747 flew into turbulence in the early hours of 14 November last year some 345 miles south of St John's, Newfoundland, after taking off in Jamaica.
The plane, with 400 passengers aboard, went on to land safely at Gatwick.
Three people needed hospital treatment.
Head injuries
The jumbo jet ran into turbulence after the pilots' study of weather radar returns had led them to alter course in a bid to avoid bad weather.
All those who were injured were in the rear, right side of the plane, the AAIB report said.
One passenger suffered a knee injury and a cabin crew member who was in the crew rest area was left with head and neck injuries, sustained during "significant climbs and descents".
At one point, the turbulence was so severe a stewardess had difficulty securing herself in her harness, the report said.
Once it was over, the cabin crew attended to the injured passengers and crew member, assisted by medically-qualified passengers.