Heene school wants Worthing pub site for playground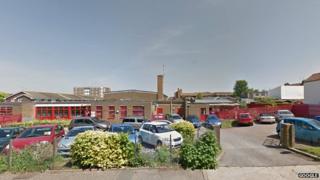 Nearly 2,000 people have signed a petition calling on West Sussex County Council (WSCC) to buy a former pub site for a growing school.
Heene Church of England First School in Worthing is expanding to take an extra 60 pupils in 2015, but says it will desperately need more outdoor space.
The petition says parents are "incredibly concerned" WSCC has not secured extra land.
WSCC said it made offers for the Jolly Brewers but they were rejected.
Heene First School, which currently takes 360 four to eight year olds, will become a primary school for 420 four to 11 year olds next September.
But the parents say the plans for building on the existing playground are unacceptable.
Flats turned down
The pupils have contributed to a YouTube video campaign to save their playground.
A planning application to build a block of 20 flats on the Jolly Brewers site was recently turned down, but WSCC said the developer wanted to appeal.
"This land is just behind the school and it has just come up at the same time as the school needs to expand and it seems like the perfect opportunity," said parent Lisa Ottway.
"If we don't get the land now and flats get built on it, the school will never be able to expand."
The council said in a statement: "We are working closely with the head teacher and governing body to look at various potential options for children to have greater access to outdoor play space.
"We remain willing to discuss site options with the developer.
"WSCC is in positive discussion with Worthing Homes, who manage the adjoining Clifton Court, about the potential to secure use of an area of land adjoining the school known locally as 'the washing line' land."