Brighton honours World War One VC hero Theodore Wright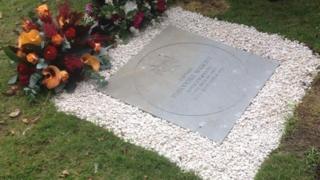 A World War One war hero given the highest honour for bravery has been remembered 100 years after his death.
Captain Theodore Wright, from Brighton, was posthumously awarded the Victoria Cross for his actions in the French town of Mons in August 1914.
He was charged with helping to destroy bridges, but despite being wounded by shrapnel, continued to lay cables. He was then killed the following month.
A commemorative stone and plaque to him has now been unveiled in Brighton.
'Remarkable hero'
A ceremony at the city's war memorial in the Old Steine was held on Wednesday and attended by more than 100 people, including his descendants, local school children and war veterans.
In his honour, the Brighton and Hove Bus Company has named the 480 bus on Route Five after him, describing him as one of "the most remarkable heroes" of World War One.
Captain Wright, who served in the 56th Field Company of the Royal Engineers, was killed on 14 September while helping an injured man across a pontoon bridge at Vailly, in France, aged 31.
He is buried in the British cemetery at Vailly.
His Victoria Cross and campaign medals were presented to the Royal Engineers Museum in Gillingham, Kent, by his family.