Sussex MP in Southern Rail talks on East Grinstead delays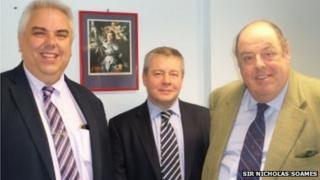 Southern Rail has been told to improve its performance after commuters using services from East Grinstead, in West Sussex, complained to their MP.
Sir Nicholas Soames, the Conservative MP for Mid Sussex, called Southern Rail management to a meeting on Friday.
He acted after many of his constituents contacted him about staff shortages delaying services from East Grinstead.
The rail company described the talks as "constructive and frank", and said it would ensure the issues were resolved.
Sir Nicholas said there had been a series of "entirely understandable and correct complaints" about rail services from East Grinstead, particularly in the last several weeks.
'Very inconvenient'
He said they centred around delayed or cancelled trains due to staff not showing up for shifts, or complications with Southern's rota system.
"It's unusual for this to happen as normally things are pretty good," the MP said.
Martin Grier, head of trains, and David Scorey, operations manager, attended the meeting in his constituency.
Sir Nicholas said the managers acknowledged there was a problem, and that they would be dealt with.
"Any delay is very tiresome and very inconvenient for commuters," he added.
A statement from Southern said: "We will be working hard to ensure that these issues are resolved and that once again, our passengers will get the level of service quality they expect and deserve."