Wine worth £14,000 stolen in Shoreham raid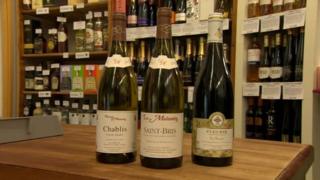 Thieves have stolen 1,800 bottles of wine worth a total of about £14,000 from a wine merchant in Shoreham, West Sussex.
The Winehouse in Brighton Road was broken into between 00:15 and 1:15 BST on Tuesday, Sussex Police said.
The force said a van or lorry would have been needed to transport the wine.
The haul includes 2012 Chablis Cuvee Andre Dom Malandes, 2012 Fleurie Les Garants and Saint-Bris Chablis Les Malandes, police said.
Derek Fowle, from The Winehouse, said: "They had obviously been in as a potential customer and identified where the alarm system was and how it operated."
He said they were the only wine merchants in the UK to import one of the wines from Chablis.
PC Sally Howarth said: "A number of people must have been involved to have removed so many bottles of wine in such a short period of time."