Lewes school site sale angers campaigners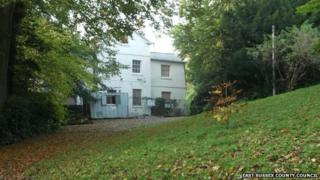 Campaigners say they are angry a former school in East Sussex is to be sold to a spiritual organisation which they claim will not benefit the community.
The Subud community, which already has premises in Lewes, has been named as the preferred bidder for St Anne's School, which closed in the 1990s.
Lewes Community Land Trust, which also bid for the building, said it did not feel the process was transparent.
East Sussex County Council said the proper procedures were followed.
The four-acre grounds of St Anne's were occupied in 2011 by climate activists who declared squatters' rights.
After their eviction the county council, which owns the site, said it would be sold for community use.
The YMCA also made an unsuccessful bid to buy it.
"The Subud bid is believed to be lower than the others," said Anthony Dicks of the community land trust.
"It also offers very little community benefit.
"Subud are going to make available two community halls on the site but they are going to close their existing site so there is no net increase."
Subud spokesman David Anderson said the group was a non-denominational organisation formed in the UK in the 1950s.
"The place we have has been a benefit to the community but we've outgrown the premises," he said.
"We need a bigger space ourselves but we also saw this as an opportunity to have bigger links to the community."
The county council said the bidding process was fair, open and transparent,
"The preferred bidder was unanimously chosen at an open meeting by a panel including council officers, local councillors, members of the community and voluntary groups at an open meeting," it said in a statement.
Residents are to hold a public meeting to discuss the decision on Wednesday at Lewes Town Hall.