Weapons and jewellery haul found in Durrington pond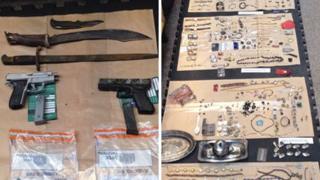 Handguns, a machete and knives were among more than 850 items discovered in a pond in West Sussex.
The haul, which also included necklaces, brooches, rings and trinkets, was recovered by police from a pool in Whitebeam Wood, Durrington.
Officers searched the area after a dog jumped into the pond and emerged with a jacket and some cufflinks on 23 July.
The force believes many items had been stolen. The weapons are being examined to see if they are linked to crimes.
Sussex Police have now released pictures of the objects on their website in a bid to track down their owners.
Det Con Emma Fields said: "Many of these items are not particularly expensive but could hold great personal value to the owners.
"We have already identified some of the items as having been stolen in burglaries in Sussex but we want to find out who owns the rest of them."