First fallow deer bones to be shown at Fishbourne Roman Palace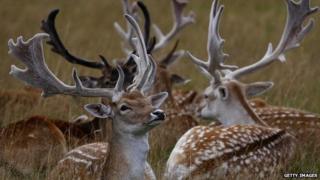 The remains of what are believed to have been the earliest fallow deer in the UK are to go on display at Fishbourne Roman Palace in West Sussex.
Its inhabitants imported live deer from Europe in the second half of the 1st Century AD, not long after the Romans invaded the UK in 43 AD.
They were released to wander around, "like in a safari park", palace curator Rob Symmons said.
Tens of thousands of animal bones and teeth are kept in the palace's stores.
Most of them came from animals including pigs and sheep, which were eaten by Fishbourne's residents.
Dr Symmons said the Romans had used the "extravagant, exotic" fallow deer to show off, and possibly "to prove to the locals that they had some control over nature".
"They didn't seem to have been used for food," he said.
"Some of them were quite old."
Discovered in 1960, when a water main was being laid, Fishbourne is the earliest and largest Roman residence in Britain.
Built of stone and with mosaic tiles - at a time when the locals were living in homes made from mud - it was "a hundred times bigger than anything anyone local would have seen," Dr Symmons said.
The exhibition, which opens on 7 September, is part of Dama International: The Fallow Deer Project, based at Nottingham University.