Newhaven campaigners carry out 'mass trespass' on beach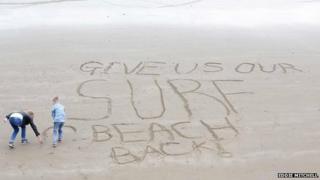 Campaigners have carried out a "mass trespass" to call for a privately-owned beach in East Sussex to be reopened to the public.
West Beach in Newhaven was closed in 2008 by Newhaven Port and Properties, which owns the port in the town.
The Court of Appeal last year ruled that the beach could be registered as a village green, because it had been used by the public for 20 years.
The owner will challenge the decision at the Supreme Court in November.
Newhaven Port and Properties argues that the beach is too dangerous to be used by the public because it is part of the working area of the port.
The protesters used ladders to climb over a fence to access the beach. They were joined by two campaigners from France.
A spokeswoman for the group said: "For over 100 years we've used this beach safely and sensibly.
"I think they [the owners] are showing us nothing but the deepest contempt in not even replying to any pleas that we've given them."
Newhaven Port and Properties told BBC Sussex it had no comment to make.