East Grinstead WW1 paving stone honour for Sidney Godley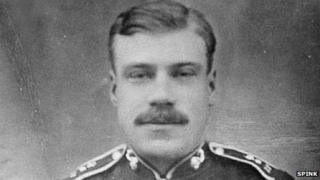 A commemorative paving stone has been unveiled in East Grinstead in honour of a World War One soldier who was awarded Britain's highest honour for valour.
Pte Sidney Godley, from the West Sussex town, was sent to the Western Front soon after the war broke out in 1914.
Despite having a bullet in his skull, he managed to defend a bridge in Mons, protecting British soldiers.
He was awarded a Victoria Cross (VC) in recognition of his feat, the first awarded to a private.
Pte Godley was one of the the first in the UK to be recognised through a government scheme marking the 100th anniversary of the start of the conflict.
The soldier, who was 25 when he was sent to the Western Front with the 4th Royal Fusiliers, was badly wounded in the attack, on 23 August 1914.
He had shrapnel in his back and a bullet in his skull, but protected British positions in the face of a German onslaught until he was captured.
Eric Pickles, Secretary of State for Communities and Local Government, attended the unveiling.
He said every serviceman in World War One who was awarded the Victoria Cross would be honoured with a paving stone in his birth town.
"One hundred years ago today these brave young soldiers were rightly awarded Britain's highest military honour for acts of exceptional courage in the cause of liberty," he said.
"They came from towns and cities just like ours, but went on to carry out astonishing acts of valour in service of their country."
Pte Godley's medal sold for £276,000 at auction in London in 2012.
Since his death, blue plaques have been placed at East Grinstead Town Council offices and at the house in Torrington Drive, Loughton, where he lived for some time.