East Sussex badger TB vaccine scheme welcomed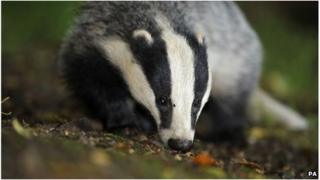 A vet who has witnessed the effects of bovine tuberculosis (TB) on livestock farmers has welcomed a badger vaccine programme in East Sussex.
Bill Pepper, of Lewes, said the vaccine would not be a "magic bullet" but would help control TB, and would be welcomed by wildlife groups and farmers.
The Sussex Badger Vaccination Project (SBVP), led by volunteers, has already started work at four undisclosed sites.
SBVP believes vaccines are better than badger culling in eradicating TB.
Mr Pepper said the disease was currently being controlled by testing cattle, with movement restrictions introduced if cattle tested positive.
He said most farmers were "delighted" about the vaccine scheme and added: "I'm always in favour of a vaccine rather than a slaughter for a living animal and I'm sure most people would agree."
He knows three farmers who currently face movement restrictions.
"It's a bit like you become a leper," he said. "You're closed down. You can't trade. There are huge repercussions."
'High risk area'
SBVP was set up to offer farmers and landowners opportunities to vaccinate and has received funding from International Animal Rescue and the Southdowns Badger Group.
Volunteers spent last week pre-baiting and placing traps on land where badgers forage for food.
Defra said vaccination could play an important role in preventing the spread of bovine TB, and a vaccination scheme would be launched to help create a buffer zone.
But a spokesman said: "Vaccination doesn't cure infected badgers and stop them passing on TB.
"Overseas experience shows a comprehensive strategy that also includes cattle movement controls and continuing to cull badgers in areas where the disease is rife is likely to be most effective in moving to eradicate TB in England."
East Sussex has been designated a high risk area under the Defra bovine TB strategy.
Badger vaccination trials have been carried out elsewhere in England and Wales, while a pilot cull was staged in Gloucestershire and Somerset last year.
The culls saw more than 1,000 badgers shot dead in parts of the two counties, with the government saying the action was needed to help tackle bovine TB but opponents saying the cull would not cut TB, was inhumane and could lead to populations of badgers being wiped out.