Grant to help raise funds for Bognor Pier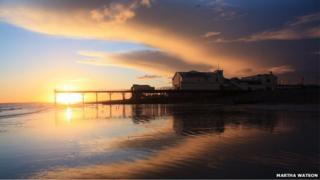 The trust set up to protect the pier at Bognor Regis has been awarded a government grant of £10,000 to help it with fundraising and legal costs.
The Bognor Pier Trust was set up in September and is attempting to take over the freehold of the Grade II-listed structure from its owner.
The West Sussex pier opened in 1865 and has suffered damage including the loss of a 200ft section in a storm in 1999.
The trust said it wanted to secure the pier as a community focal point.
Nick Stuart-Nicolson, chairman of the trust, said: "By preserving Bognor Regis pier we would once again create a central location where many groups in the community can gather."
The structure was damaged by storms, with parts collapsing between 1964 and 1967, the trust said.
Another 200ft section of the pier was lost after a storm in 1999 and further damage since meant the end of the pier had to be removed after becoming unsafe.
The annual Bognor Birdman event, which sees people jumping off the pier and attempting to fly unaided for 100 metres, was cancelled in 2014, over safety fears.
The event was held in Bognor Regis from 1978 until 2007 but was moved to Worthing in 2008 amid fears over its the pier's stability before returning to Bognor in 2010.
Organisers say Bognor Birdman has raised more than £120,000 for charities over the last 10 years.