Dive-bombing seagulls 'becoming a menace' in Devizes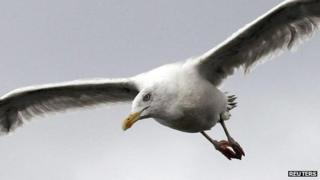 Large numbers of seagulls have been attacking people, leaving mess and keeping residents awake in a Wiltshire town, it has been claimed.
Devizes councillor Andy Johnson said the birds were "a pest" and "a health hazard" and have been known to "dive-bomb" people.
Residents in the Roundway area say the problem is so bad it is significantly reducing their quality of life.
A petition is calling for action to deal with the gulls in the area.
It has been set up by Devizes councillor Laura Mayes who says increasing seagull numbers in Devizes are becoming "a menace".
She said the problem is "getting steadily worse" and is "ruining the quality of life for residents".
'Take responsibility'
She said: "As well as depriving many residents of sleep, the seagulls are generating a significant amount of pollution and pose a potential danger to vital helicopters and low flying aircraft."
Devizes resident Jemma Brown said the local authority "needs to do something" and "the whole town needs to take responsibility for proper rubbish disposal so they don't scavenge".
The petition will be presented to the county council at the next Devizes area board meeting in September which it is hoped will lead to a proper assessment of problem.
In other towns affected by increasing numbers of gulls, an egg and nest removal programme has been carried out, along with extra signs put up discouraging members of the public from feeding the birds.
Complaints about increasing seagull numbers have also been heard in Calne, Bradford-on-Avon and Swindon.