Experts work to recover Eastbourne Pier CCTV after fire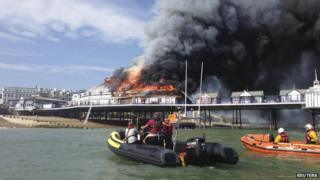 Forensic experts have been brought in to recover CCTV footage from Eastbourne Pier after the system's hard drives were damaged in last month's fire, Sussex Police have said.
Officers believe the blaze may have been started deliberately.
The fire on 30 July destroyed about a third of the 144-year-old, Grade II-listed pier.
Det Ch Insp Mark O'Brien said retrieving the footage could take weeks, if not months.
He said the force's technical support unit had been unable to retrieve material from the CCTV's hard drives.
A forensic science company in Wales would try to rebuild the hard drives, but that work would depend on whether the disks were corrupted or damaged by fire, he added.
"At the end of that process we'll know whether or not we'll be able to get the material because from my point of view the CCTV within the arcade is a significant line of inquiry for us," he said.
"It could take weeks, it could take months, depending on what the forensic science providers say."
But he said the force still had third-party material to work on.
A dedicated team of officers would be spending weeks examining CCTV footage from both the police and external cameras on the pier, and pictures sent in by members of the public, he said.