Eastbourne Airbourne fans watch surprise marriage proposal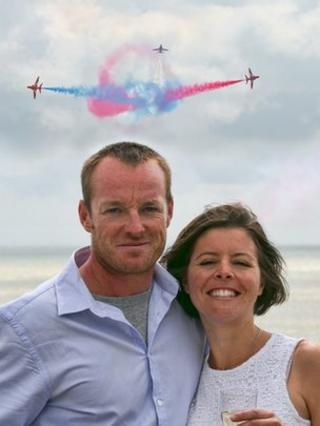 Thousands of air show fans have watched a man propose to his girlfriend on a stage and over a giant TV screen.
Australian Paul Neill is chief officer on a private yacht based in Montenegro, but he travelled to propose to Emma Cox in Eastbourne.
The marriage proposal took place at the East Sussex town's annual air show, Airbourne, on Saturday.
Ms Cox's reply of "yes" was accompanied by rapturous applause, organisers said.
Mr Neill, 36, a keen sky diver, usually sees his Ms Cox only once or twice a month during the summer because of his job.
He said he came back to propose at Airbourne, shortly before the Red Arrows performed, because his girlfriend was a fan of the air show and he thought it would be "a great thing to do".
Ms Cox, 34, was at the show with their two children, Tia, six, and Marco, two, and her friends and family, when Mr Neill made his surprise return.
He was working on the yacht on Friday and said he made the journey at the last minute.
"I wondered where Paul had gone and then he suddenly appeared on stage," Ms Cox said.
"It was such a special moment and it really hasn't sunk in."