Path under fire-hit Eastbourne pier opens for Airbourne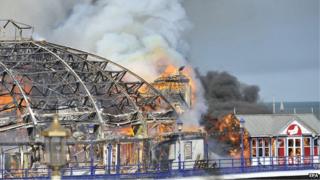 The path running under Eastbourne Pier will be open in time for the East Sussex town's annual airshow following the recent fire, the council has said.
Eastbourne council said structural engineers had confirmed the pier floor above the promenade is in good condition after the pier blaze.
The promenade pavement is also safe, the local authority said.
Airbourne, the resort's biggest summer tourist event, starts on Thursday. It draws tens of thousands of people.
Announcing the opening of the promenade, a council spokeswoman said: "The news will be welcomed by visitors to one of the largest and most popular free air shows in the south."
The fire on 30 July destroyed about a third of the 1,000ft (300m) long pier.
Police believe the blaze on the 144-year-old, Grade II-listed structure may have been started deliberately.
It broke out behind some wood panelling in the arcade building, sending huge plumes of smoke into the air.
The owners of the pier have said the structure could be partially open by Christmas.