Rye Harbour Road cycle path unfinished 10 years after death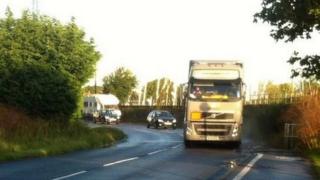 Construction of a cycle path prompted by the death of a rider is still not complete 10 years after he was killed.
Graham Matthews, 22, died in August 2004 when his bicycle was hit by a car on Rye Harbour Road, Rye.
His parents campaigned for the path to be built, but work on it stopped in 2008.
East Sussex County Council said land availability had delayed the project and though the path would be completed, this would not happen for another year.
The council had declared in 2007 that finishing the pathway was a priority.
'Been through hell'
While about 1.1 miles (1.8 km) of the cycle path has been built, the 400 yard (370m) stretch where Graham Matthews was killed still has no pathway.
Mr Matthews's father, Brian, said he had "been through hell over the last 10 years and I do not want anybody else to have to go through that".
Completing the cycle path would mean "at least my son will not have died in vain as something will have come from his death," Mr Matthews said.
Jim Hollands, from Rye Wheelers cycle club, said the spot on the "really busy road" where the path was missing was "in the worst place because its right on a blind corner".
Keith Glazier, leader of East Sussex County Council, said he was "confident" the cycle path would be finished.
He said the path had been delayed as the final part of land was owned by a third party and council budgets had also been cut.
"These issues have now been resolved and we have funding in place to complete the final phase of the scheme", he said.
The cycle path is now expected to be completed by summer 2015.