Sussex hospitals must improve A&E and maternity, inspectors say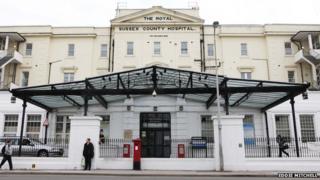 Two hospitals have been told they must improve accident and emergency and maternity services after an inspection by the Care Quality Commission (CQC).
Brighton's Royal Sussex County Hospital and the Princess Royal at Haywards Heath, run by the same NHS trust, both require improvement, the CQC said.
Inspectors said both needed to improve A&E, maternity and family planning but many services were rated as good.
The trust said the report was fair and rated 64 out 90 categories as good.
The CQC first told the Brighton and Sussex University Hospitals NHS Trust it should improve A&E at the Royal Sussex in June 2013.
Its latest report followed a planned inspection in May this year and a further unannounced visit in June.
Inspectors found significant improvements had been made at all the trust's sites but said more were required.
Some patients were being treated on wards not specific to their condition and discharge levels were too low.
There were staffing issues, with high usage of temporary staff, and there was still significant pressure on A&E in Brighton.
The Royal Sussex is shortly to undergo a £420m redevelopment.
Chief inspector of hospitals, Prof Sir Mike Richards said: "While the new hospital buildings may in time resolve some of the infrastructure issues, these will not rectify the cultural issues that some staff told us about."
Chief executive of the trust, Matthew Kershaw, said there were a lot of positives in the CQC report.
"The area of challenge which requires the most attention is the inadequate rating for A&E at the Royal Sussex County Hospital," he said.
"What this reflects is that the whole system, which includes in-hospital care, the numbers and types of people who come into A&E and the discharge, is not working as well as it should."
Mary Cridge, who led the inspection, said the trust needed "rapid action ahead of winter to make sure A&E was not under such pressure."
She said the hospital had to improve how quickly it discharged medically fit patients from A&E as "the longer somebody waits when they're medically fit, the harder it is for them afterwards".
Janice Kent, of the Central Sussex Independent Patients Forum, said she was not surprised by the report because "we know there aren't enough staff and there's not enough beds in the hospital."
"It's all very well saying they can't discharge patients rapidly enough but this is a known problem, it's happened for years," she said.