Brighton Astoria to be demolished for flats and offices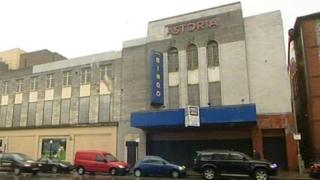 Plans to demolish a former Grade II listed cinema and re-develop the site have been approved by Brighton and Hove City Council.
The Brighton Astoria Theatre will be replaced with an office development, restaurant and flats.
The derelict art deco cinema was built in 1933 but had been used as bingo hall until the building was closed in 1996.
Permission to develop the site was granted in May 2012 but the changes have now been approved by the council.
The new plans, created by architecture design firm Conran and Partners, are for a six-storey development including an "eco-friendly office space" and penthouse apartments.
'A real shame'
Phelim Mac Caffery, chair of the planning committee, said it was "sad" that no plans had been proposed to retain the building as a cinema or entertainment venue.
He said it was "a real shame" to remove the historic art deco building but "there is an outstanding condition to record and retain features of importance appropriately."
"We have such a serious housing shortage it seems reasonable to allow some residential development to be added," Mr Mac Caffery said.
Site owner Mike Holland said he was now looking to complete a deal with a developer "and turn the vision into reality."