Residents bid to rebuild Eastbourne Pier after fire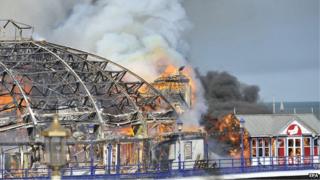 Residents have launched a campaign to help rebuild Eastbourne Pier after it was badly damaged by fire on Wednesday.
Up to 80 firefighters tackled the blaze that ripped through the Victorian Grade II-listed structure, reducing the dome-shaped arcade to a charred shell.
Sussex Police said the force had received information suggesting the fire was started by someone "either deliberately or accidentally".
A crowdfunding appeal has been launched by resident Bruce Salter.
Mr Salter, who has lived in the area for 15 years, described the pier as an "iconic" structure.
He said: "Eastbourne seafront simply would not be the same without its pier and it would be an absolute tragedy for the town if it were to be just left to the elements with the remaining undamaged parts of it succumbing to vandalism.
"The pier is an integral part of the local economy and we should all do our bit to bring it back to life as soon as possible."
The money raised will go into the Eastbourne Pier Benevolent Fund and will be used to create pop-up shops "to keep the pier traders afloat and as soon as the work starts to rebuild this landmark structure".
On Friday, Prime Minister David Cameron and Chancellor George Osborne visited the pier to see the damage first-hand.
Mr Cameron said it was clear the whole town was "pulling together to work out how to get it back on its feet".
He has pledged £2m to help support businesses and traders suffering in the wake of the fire.
Mr Cameron said it was his hope that the pier would be "rebuilt rapidly".