Tarantula discovered in bananas sent to Sussex food shop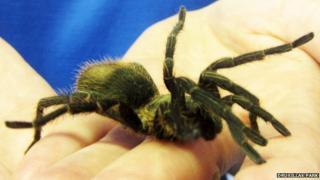 A stowaway tarantula was discovered in a case of bananas which had been delivered to a food shop in West Sussex.
The South American spider was found by the owners of the shop in the Horsham/Crawley area on Thursday, who took it to their local vet.
The RSPCA was called and the 3in (8cm) arachnid has been given a new home at an East Sussex zoo.
The tarantula has been identified as a fully grown Peruvian Green Velvet.
Angela Hale, the spider expert at Drusillas Park where the tarantula has been re-homed, called the find "exciting".
She said Peruvian Green Velvet's were an "extremely docile" dwarf species, which are usually found in scrubland.
Although they are venomous, the species is not considered particularly dangerous to humans.
Drusillas Park also took in a giant huntsman spider in November 2013 after it was discovered in a container of BMX parts that had travelled from Taiwan to St Leonards-on-Sea.