Eastbourne Pier fire: Uninsured kiosk holders to 'get help'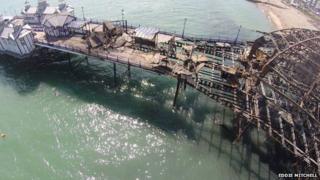 Uninsured kiosk holders whose businesses may have been wrecked by the fire on Eastbourne Pier have been promised help.
The Eastbourne Pier Benevolent Fund has been set-up offering free market stall pitches. It is hoped empty stores can also be used as "pop-up" shops.
The Environment Agency said the blaze caused sewage to leak on to the beach.
However, two thirds of the structure was saved by fire crews.
The benevolent fund has been organised by the Chamber of Commerce, the Eastbourne Hospitality Association, Eastbourne Borough Council and Eastbourne MP Stephen Lloyd, following a meeting earlier.
Mr Lloyd said: "This is a disaster for us. It is a lovely pier. It was built in 1870. It's heartbreaking, absolutely heartbreaking."
But he said two thirds of the pier remained intact and the structure could be repaired.
He said one concession holder told him on Wednesday night businesses on piers could not get insurance.
"Clearly there are some concessionaires who their entire livelihood is related around our lovely pier," the MP added.
Christina Ewbank, who is the chief executive of the town's Chamber of Commerce, said: "The town is hugely reliant on tourists - the seafront is beautiful and the pier is an important part of that.
"I don't think people come to Eastbourne just for the pier, they come for a variety of reasons.
"I actually think the pier will bring new people, because people will want to see what's happened to it."
The fire broke out on Wednesday behind wood panelling in the arcade building.
Eastbourne Borough Council leader David Tutt has said he understood the fire had been started by an electrical fault, but fire crews have said the cause is unexplained and an investigation will take a number of days.
No-one was injured and the fire is not being treated as suspicious.
---
Pier fires
South Parade Pier in Southsea was destroyed by a blaze in 1904 and another fire in 1974 meant the pier needed rebuilding for a second time
The Indian Pavilion on Blackpool's North Pier was destroyed by fire in 1921
The Grand Pier in Weston-super-Mare was damaged by fires in 1930 and 2008
The Grand Pier Pavilion at Herne Bay Pier was destroyed by a blaze in 1970
According to the National Piers Society, Morecambe Central Pier was damaged by fire in 1987 and then its ballroom was destroyed by fire in 1991
West Pier in Brighton burned down in 2003
Southend Pier was partly destroyed by fire in 2005
Fleetwood Pier in Lancashire burned down in 2008
Hastings Pier was almost destroyed by a fire on 5 October 2010
---