Boy, 3, crashes parents' car into pub garden in Sussex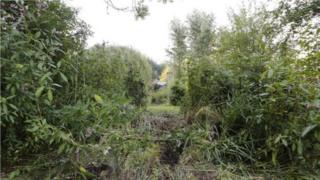 A three-year-old boy unlocked his parents' car and drove it down two embankments into a pub garden.
The boy started the car and drove the automatic Subaru Impreza down his parents' drive in Midhurst in Sussex.
He ended up in a garden of the nearby Duke of Cumberland Arms pub just before 08:00 BST on Wednesday.
Sussex Police said the boy had a "slight bump to the head". No one else was hurt but the car was damaged.
It is believed he was not close to venturing on to any main roads and managed to avoid hitting any members of the public.
A Sussex Police spokesman said: "The boy unlocked the Subaru Impreza vehicle, which is an automatic, started it and drove it down the driveway, down two embankments and ended up in the garden of the Duke of Cumberland Arms pub.
"He suffered a slight bump to the head after hitting it on the steering wheel.
"An ambulance was called and he was taken to hospital to be checked out."