Gatwick Airport announces £256m plan to increase second runway support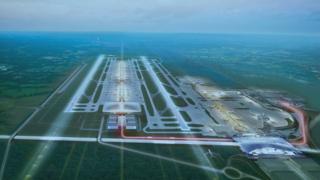 Gatwick Airport has announced £256m of funding for local jobs, housing and apprenticeships if a second runway is given the go-ahead.
The airport said the plans were in response to issues raised during a public consultation.
It includes £46m for infrastructure around new homes and £5m to help insulate existing homes from noise.
But the Aviation Action Group of parish councils described Gatwick's numbers as "almost laughable".
Other promised schemes from the £256m include £10m for road improvements and a £3.75m plan to create 2,500 apprenticeships for local people.
More than half the total - £131m - would be to fund compulsory purchases of houses, with owners set to be offered more than 25% above market value.
'Insulted'
The Airports Commission is currently examining the need for additional UK airport capacity.
Options include a second runway at Gatwick, a third runway at Heathrow or lengthening an existing runway there.
It is also considering a new airport in the Thames Estuary.
Richard Stretfield, from the Aviation Action Group, which represents a group of parish councils in the area, said he was "insulted" by the announcement.
"The numbers that Gatwick have come up with are so small by comparison with the requirement as to be almost laughable," he said.
"Bringing people into the Gatwick area is going to put such pressure on the area on building new homes for those people and all the services they're going to use, and all of those things aren't costed into Gatwick's plans."
The Gatwick Area Conservation Campaign (GACC) said 19 historic houses would have to be demolished if the second runway is built.
It has also said the site is too small for an additional runway.
Gatwick's chief executive, Stewart Wingate, said: "We are determined to be a good neighbour and not lose sight of the concerns of those communities close to home.
"We've listened to local people and have created £256m of pledges to deliver improvements in many of the areas that matter to them most, from new jobs and housing, to business support and noise mitigation."
East and West Sussex county councils have backed a second runway because of the possibilities of job creation.
However, Surrey County Council is opposed on environmental grounds.