Oil and gas drill site turned down in West Sussex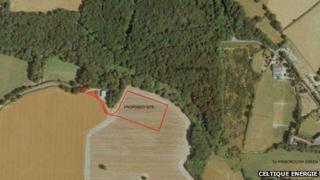 An application for exploratory oil and gas drilling in West Sussex has been turned down.
The company behind the application, Celtique Energie, wanted to drill on land between Wisborough Green and Kirdford.
However, West Sussex County Council's planning committee unanimously voted to refuse the application.
Planners said the villages' roads would not be able to cope with the extra traffic from lorries at the site.
Heidi Brunsdon, chairwoman of the committee, said: "There were simply too many highways issues and other issues of concern for any decision other than refusal in this instance.
"We have noted the objections of the local community and I felt that the debate today was a full and robust one."
Andrew Jackson, from Wisborough Green parish council, said: "A benchmark needs to be set for the whole region.
"If this was to be allowed today, it sets a benchmark for all other villages like ourselves.
"It's clear that earlier applications that have been approved have all had direct access to the major lorry routes. This one does not and it's not an appropriate location."