Gatwick Airport air traffic control deal goes to Germany's DFS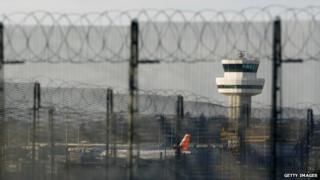 Gatwick Airport's air traffic control services are to be provided by a German state-owned company from next year, the Sussex airport has announced.
A 10-year contract for services below 4,000ft around the airport has been given to Deutsche Flugsicherung (DFS).
The service has been provided for more than 30 years by Hampshire-based NATS, which will continue to navigate air traffic above 4,000ft.
NATS said it was disappointed, but it was too early to say if jobs would go.
'Safety comes first'
DFS is wholly owned by the German government and operates 16 airports in Germany as well as providing air traffic control across the country.
The firm said staff at Gatwick would transfer to DFS "in close dialogue with the employees and their representatives".
Gatwick management said it was planned that, after a period of transition, DFS would start work in October 2015.
Chief executive officer Stewart Wingate said: "Gatwick operates the busiest and most efficient single runway airport in the world. Naturally safety comes first in everything that we do.
"DFS is a well-known and well-respected provider in this industry and across Europe and has demonstrated a forward looking approach to its business which matches our own ambitious plans to grow."
Gatwick said the contract was awarded after a extensive tendering process in which a number of companies were asked to submit proposals, which were assessed for criteria including safety, innovation, technical capability and cost.
Klaus-Dieter Scheurle, the chief executive officer of DFS said: "We are pleased that the DFS Group has been awarded the contract for Gatwick Airport and are looking forward to providing safe and efficient air traffic control services with the Gatwick tower staff."
Workers 'dismayed'
Mike Stoller, director of operations, airports, for NATS, said: "We are extremely disappointed that the highly competitive bid we submitted to Gatwick has been unsuccessful.
"We have added considerable value to Gatwick in recent years, building it to the point where with 55 movements an hour it significantly out-performs every other single runway airport in the world."
The union Prospect, which represents 40 air traffic controllers and 12 engineers at Gatwick and 1,800 NATS staff around the UK, said members had reacted with dismay.
National secretary Emily Boase said: "We share NATS' disappointment that their highly competitive bid was unsuccessful.
"It is significant that a German provider has come into the UK market. It demonstrates how competitive it has become in recent years.
"With NATS also losing the Birmingham contract in 2013 we are concerned that price must not become the only driver for change as newcomers bid for future airport contracts."
Ms Boase said the UK needed a sustainable airport market, providing secure air traffic management jobs with pay and conditions that reflected the specialist skills required, backed by a commitment to invest in infrastructure and technology.