Academy protest strike shuts Hove Park secondary school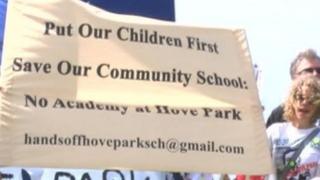 Staff at a school in Hove are staging a one-day strike over concerns at plans to turn it into an academy.
The National Union of Teachers (NUT) protest has closed both sites at Hove Park School.
Campaigners said the action was supported by parents, carers and students.
Head teacher Derek Trimmer said a minority of staff voted to strike but a risk assessment had led to a decision the school would have to close.
Seventy-six of the school's 220 staff are in the NUT, Mr Trimmer said. Out of 46 people who voted, 36 supported strike action, he added.
He also said governors had promised staff there would be no threat to pay and conditions before adding: "It is hard to see why strike action is necessary."
NUT regional secretary Paddy Marshall said 80% of those who voted backed strike action, and members objected to the change of employer - Hove Park would be run by a multi-academy trust, under the plans.
He said protection to terms and conditions would not apply to new staff and those seeking promotion.
Strike action was "a last resort" but members wanted to make their views known, he said.
Consultation on the academy move has closed, with a decision to be made in September.
The school said becoming an academy would allow it to allocate more resources to students' education, determine its entire budget, and apply directly to the government for funds.
But Sharon Duggal, from Hands Off Hove Park School, said: "Parents and carers share the teachers' concerns that the case for the academy has not been made in terms of benefits to pupils."
Brighton council said the decision on becoming an academy was a matter for school governors, but it had balloted Hove Park parents.
Results showed 156 parents voted yes to becoming an academy, and 387 voted no - 1,528 ballot papers were sent out, with 544 responses received.