Worthing birdman Ron Freeman breaks own record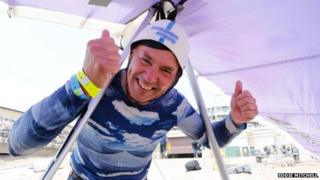 A daredevil has beaten the record for the furthest unassisted flight, in a "birdman" competition in West Sussex.
Ron Freeman, from Newbiggin-by-the-Sea, Northumberland, flew 159.8m (524ft) in the Worthing International Birdman competition in his adapted hang-glider the Geordie Flyer.
The event sees people throw themselves off the town's pier in machines and various costumes.
Mr Freeman surpassed his own record set at the event last year.
Mr Freeman could now land the £10,000 top prize if he has another good run on Sunday.
Competitors in his Condor Class for serious attempts have their final scores based on flights on both days of the two-day event.
Last year, he missed out on the cash after strong winds forced him to take a sideways rather than a forwards route off the pier.
A spokesman for the event confirmed Mr Freeman's distance, adding that the Geordie Flyer had a large wingspan.
"He overlapped the edge of the platform that the competitors jump off," he said.