Green spaces in Brighton and Hove 'could be lost forever'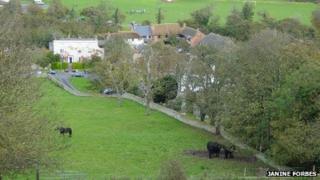 Green spaces in Brighton and Hove could be lost forever in the need to provide more housing for the city, Brighton Friends of the Earth (FoE) has said.
Councillors will debate building on 39 greenfield sites on the "urban fringes" of the city at a policy meeting later.
The sites include land at Mile Oak, Ovingdean and Hollingbury and would provide space for another 1,200 homes.
FoE spokesman Chris Todd said some of the proposals involved taking land from a park, which "does not make sense".
"We're not against all development - we recognise there's a need for housing," he said.
"We wonder, whatever building that we do, will we ever actually solve the problem while we've got London distorting the whole housing market in the whole of the South East... which is putting a huge pressure on places like Brighton."
'Terrible mistake'
The city council needs to find space for an extra 13,000 homes after the government's planning inspector ruled its proposed City Plan - the blueprint for development up to the year 2030 - fell short of meeting the demand for houses.
Warren Finney, from the National Housing Federation in the South East, said the extra houses were vital.
"We have over 11,000 people on housing waiting lists in Brighton.
"We have 230,000 people on housing waiting lists in the South East, and 1.8 million people on housing waiting lists across England," he said.
"So in the 21st Century in England we're not able to house the people that live here."
However, Brighton & Hove Friends of the Earth said while understanding the pressure the council was under, it was concerned that it could still make "a terrible mistake" in the haste to proceed.