University of Sussex's first students return after 50 years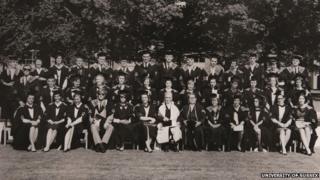 Some of the first students to receive degrees from the University of Sussex will return for this year's graduation to mark 50 years since they left.
Eight of the 37 people who graduated in 1964 will join current students as they receive their honours at the final graduation events this week.
Fifty-two students started at the Brighton-based university when it opened in 1961.
Nearly 3,000 new graduates will attend seven separate ceremonies this year.
Those attending the reunion believe this year's graduates have had a very different learning experience to that of the 1960s.
'Good for the men'
Roger Daw, who studied history, said the university was originally based in two Victorian houses and students were "crammed into very limited accommodation".
Over 13,000 students now attend the university which is spread across a multi-building campus by the South Downs National Park.
Mr Daw, a retired head teacher and health adviser, said his time at university was a "phenomenal" experience which "certainly opened my mind".
However, he admitted "to some extent that first year was a very difficult year" which might have challenged the nine tutors who started at Sussex.
Rachel Semlyen, who studied English and philosophy, said that of the 52 students who began in 1961, 15 were men while 37 were women.
"Good for the men at least," she said.
She said her fellow undergraduates found some difficulties in being the university's first students.
"We had nobody to follow, we had no sample exam papers for instance and we had finals at the end of the third year."
However, she described the teaching as "radical", with tutors teaching students to be "critical" and to "question everything".