Man to apologise to girl, 4, hit by bike in Eastbourne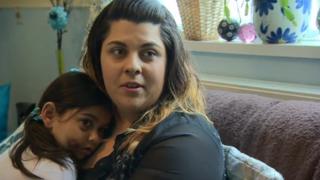 A cyclist who knocked down a four-year-old girl on a no-bike zone is to meet with her family to apologise.
Aaliyah Raj was taken to hospital after being hit by the bike while walking with her mother on the promenade in Eastbourne on Thursday.
The 21-year-old man, from Eastbourne, was arrested for using threatening language and given a police caution.
A 23-year-old man, also from the town, was arrested but released without further police action.
He was, however, reported to Eastbourne Borough Council for breaking a by-law by cycling on the promenade.
'Bubbly self'
Aaliyah suffered cuts and bruises to her face and body.
Her mother, Samita Raj, said Aaliyah had "blood pouring from her" after the crash.
She claimed that two cyclists had blamed her for the incident.
"They started shouting abuse at me saying that she shouldn't have been there and that I should have been watching her," Ms Raj said.
Aaliyah was discharged from hospital later that evening and according to her mother is "becoming her bubbly self again".