Alison Hewitt family awarded £130,000 for stalker failings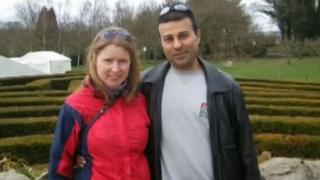 A family who endured a "living nightmare" at the hands of a stalker are to receive £130,000 because of Home Office failings.
The Parliamentary ombudsman said Al Amin Dhalla's terror campaign against Alison Hewitt and her family would not have happened without the mistakes.
Canadian Dhalla was jailed in 2012 for harassing Dr Hewitt, from Sussex, and setting fire to her mother's home.
The Home Office said it had apologised to the family for its suffering.
Dhalla moved in with Dr Hewitt months after meeting her through an elite online dating agency in 2009 but refused to accept the breakdown of the relationship when she ended it a year later.
Dr Hewitt had to live in a safe house during Dhalla's stalking campaign, during which he tried to burn down her mother and stepfather's home in Buckinghamshire.
He was arrested at the Princess Royal Hospital in Haywards Heath, where Dr Hewitt worked.
Police found in his hired car a loaded crossbow, a large knife, a claw hammer, pliers and bolt cutters, as well as a doctor's outfit. He also had a van specially adapted with a cage in the back.
The Parliamentary and Health Service Ombudsman said Dr Hewitt's mother Pamela raised concerns about Dhalla with the Home Office in November 2010.
Ms Hewitt paid a private investigator to look into him and discovered he had a violent past in Canada and had lied about his criminal record to get a visa to the UK.
The family gave details to the Home Office but Dhalla was not stopped at Heathrow when he came back from a holiday.
Two follow-up letters were lost and the Home Office also told Sussex Police Dhalla had permission to be in the UK and so was not of interest to them.
Ombudsman Julie Mellor said the family were forced to endure living nightmare for months on end.
"Vital opportunities to protect the family were missed because procedures weren't followed, allegations weren't followed up and two of the complainant's letters were lost," she said.
"The Home Office needs to embed a culture of learning from mistakes into the organisation to ensure that no-one else goes through this terrifying experience."
She has told the department to pay the family £120,000 by way of apology and £10,184 towards their expenses.
The family have received a letter from the most senior civil servant at the Home Office, Mark Sedwill, offering "unreserved apologies" for the mistakes, which he said were "completely unacceptable".
Permanent secretary Mr Sedwill wrote: "I would like to say at the outset how disappointed I am to read about the maladministration... and would like to offer my unreserved apologies to you and your family for the suffering you have endured as a result of these failings."
Ms Hewitt said: "I'm absolutely convinced none of this would have happened at all had the Home Office acted responsibly.
"The guy should never have been in the country in the first place.
"He should never have had a visa but then when I notified them they had every opportunity to remove him at that point."
The Home Office said the failings had taken place under the former UK Border Agency in 2009 and 2010.
"Institutional failures of this type are completely unacceptable and show why the Home Secretary was right to disband the Border Agency and bring back ministerial oversight of all immigration matters," it said in a statement.
"We have accepted all the ombudsman's recommendations and will see how they can further improve the organisation."