PS3 game-playing dad Mark Sandland killed baby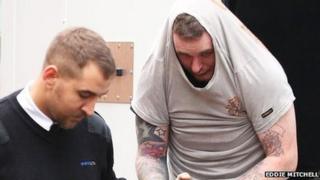 A father who had been playing on his PlayStation killed his five-week-old daughter after being frustrated by her screaming, a court heard.
Mark Sandland, 28, picked up Aimee-Rose and shook her during a sudden loss of temper, prosecutors said.
Sandland, from Hastings, denied murder on the grounds of lack of intent.
Last Monday, the prosecution confirmed it had accepted his guilty plea to manslaughter.
Sandland claimed he had suffered an epileptic fit and came round to find his daughter underneath him at their flat in Church Road, St Leonards-on-Sea in East Sussex.
Lewes Crown Court heard police who attended the flat after Aimee-Rose was rushed to hospital on 5 November 2012 found a PlayStation game controller on the sofa opposite the TV.
Prosecutor Sally Howes QC said: "It's the Crown's case that, frustrated by the distraction of Aimee-Rose screaming, the defendant picked her up and gripped her around her torso and shook her in a sudden loss of temper and loss of control.
"Despite his admission that the television was on that morning, by the time the ambulance crew arrived it had been switched off, thus covering up the fact he had been playing the game on his PlayStation."
'Panicked and anxious'
On that day, Aimee-Rose's mother was attending her first class for an applied social science degree course at the University of Brighton's Hastings campus.
During a break at around lunchtime, she sent Sandland a text message asking after Aimee-Rose, to which he replied: "She hasn't shut up since about half an hour after you left."
Analysis of Sandland's mobile phone internet history showed a website offering tips on how to play Assassin Creed 3 was accessed at 14:20, Miss Howes said.
The detail of the website, giving step-by-step instructions, meant there would have been little point accessing it unless the game was being played, she added.
Miss Howes said Sandland called the emergency services 16 minutes later, saying he had suffered a seizure and had woken up on top of Aimee-Rose.
When an ambulance crew arrived, Sandland looked "panicked and anxious" and pointed to where she laid in the sitting room, her limbs in a star shape.
He told one member of ambulance staff: "I'm epileptic. I had a fit and when I woke up the baby was underneath me."
Aimee-Rose was admitted to the Conquest Hospital in St Leonards with brain damage, and other injuries including bruising to her face, chest, abdomen and lower limbs.
She was transferred to the paediatric intensive care unit at King's College Hospital, London, but died on 9 November 2012.
Sandland was due to be sentenced earlier but Mr Justice Sweeney adjourned the case to Hove Crown Court on Wednesday.