Brighton park stabbings leave man and woman injured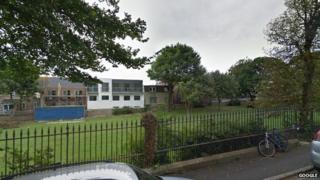 A man and a woman were both stabbed in the back in a park in Brighton.
The woman, aged 27, was badly injured and remains in hospital in a stable condition, Sussex Police said.
The female and a 43-year-old man were both attacked in the park in Dorset Gardens at about 15:00 BST on Saturday.
Two suspects, a white man and a black man both aged in their 20s, are being sought by Sussex Police, who want witnesses to contact them.
The male victim was treated and released from hospital on Saturday.
Police gave descriptions of the two suspects, saying the black man was about 6ft, muscular and wearing a bright blue top with the hood up and dark trousers, while the white man was slightly shorter, slim and wearing a grey top, also with the hood up.