Mike Weatherley, MP for Hove and Portslade, to stand down in 2015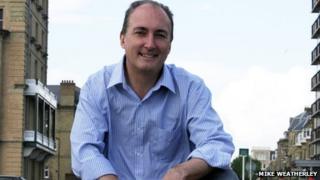 Mike Weatherley, MP for Hove and Portslade, has announced he will not stand for re-election in next year's general election.
The Conservative MP, who was elected in 2010, is Prime Minister David Cameron's intellectual property adviser.
In a letter to Mr Cameron, Mr Weatherley, 57, said stepping down was "the toughest decision of my life".
The Sussex MP said "beating cancer two years ago has led me to review what I want for the future".
"It goes without saying that my years representing the wonderful people of Hove and Portslade have been one of the most fulfilling periods of my life which I will look back on with very fond memories," Mr Weatherley said in the letter.
"I have made so many friends over the years, including so many of my loyal supporters both in and out of Brighton & Hove Conservatives.
"I cannot thank them enough."
Mr Weatherley campaigned for squatting to be criminalised and last year, hosted a gig at Parliament by Brighton DJ Fatboy Slim in aid of the Last Night A DJ Saved My Life Foundation, which encourages young people to get involved in their communities.