Lewes graves 'should be reused' as cemetery space runs out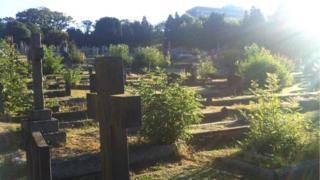 Graves in Lewes Cemetery should be reused because space for burials will run out within the next two years, campaigners claim.
Funeral directors have called for laws in London, which allow for graves to reused if they have not been changed for 75 years, to be extended.
The site currently has 35 grave spaces and 56 ashes plots remaining.
The council has said any change would require new national legislation to be introduced.
Jeremy Field, a local funeral director, said pressure for grave space was increasing as the population was growing.
Land allocated for local cemeteries had been "put aside hundreds of years ago" when communities were much smaller, he said.
He suggested reusing graves was an option as it would allow people who live in Lewes to be buried in the area.
"People perceive that when they die they are going to be able to be buried within the area they have been living in all of their life," Mr Field said.
Gary Burks, the superintendent and registrar for the City of London Cemetery, believes the policy of reusing graves works well in London.
He said authorities had used more than 950 graves and had encountered no issues "because we're very, very honest and very open with people".
Mr Burks said people who were offered spaces were informed if they had been previously occupied, while every effort was made to contact families of the people whose graves were reused.
Lewes District Council has already begun a study to find more grave space in the cemetery.
Councillor Sarah Osbourne said it was not currently possible to extend the current cemetery as it was "landlocked" and previous efforts to purchase land nearby had failed because the council had been outbid.
However, she said the option for reusing graves was currently not viable without the involvement of central government.