Kent wreck-raid divers told to pay £64k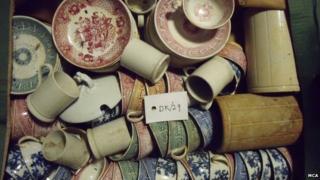 Two divers who plundered artefacts worth more than £250,000 from shipwrecks off the Kent coast have been ordered to pay £63,500 between them.
David Knight, 52, and Edward Huzzey, 56, both from Sandgate, raided ships and allegedly kept cannon from the wreck of a 19th Century merchant ship.
The pair also used cutting tools to take propellers off a WW1 U-boat.
They pleaded guilty to 19 offences between them at Southampton Magistrates' Court in May.
It is the first example of a case being brought for divers failing to declare their haul.
The friends, who had been salvaging from shipwrecks since 2001, were "spooked" when they saw a BBC report that other divers in the Kent area had been arrested for raiding a battleship in the Thames Estuary, and went to the Maritime and Coastguard Agency (MCA).
'Industrial scale'
When police searched their homes, they found "an Aladdin's cave" of items.
Some items were sold for scrap - a receipt was found for "scrap metal and brass" for £357.
Knight and Huzzey admitted 19 offences, which was reduced to 17 after some of the artefacts were retrieved.
The court heard the cannon have now been recovered.
The Merchant Shipping Act 1995 says finds should be declared to the Receiver of Wreck within 28 days, but the defence argued there was a lack of clarity around this issue, and that the pair did ultimately confess.
Anthony Calloway, Hampshire's district judge, said: "It's clear the operation was on an industrial scale.
"The skill required and employed by them was considerable."
He added: "Huzzey and Knight are friends and clearly operated in close co-operation to actively scavenge for material from the wrecks they explored."
Knight was fined £7,000 and Huzzey £6,500.
Both were ordered to pay costs of £25,000 each.