Woman raped in Brighton pub toilet during night out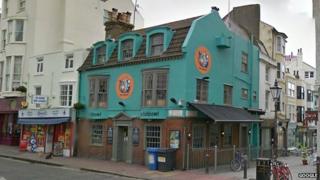 A woman has been raped in the toilets of a Brighton pub while she was on a night out.
The woman was attacked between 01:30 and 03:00 BST on Saturday in the Fishbowl pub, East Street.
The man, who she did not know, is described as being white but tanned, in his late 20s or early 30s, "fairly short" and of slim build.
Sussex Police said he spoke Spanish and was wearing a white T-shirt with 'Colombia' written on it.