Brighton councillor Ben Duncan 'sorry' for forces tweet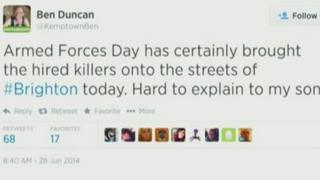 Calls have been made for the resignation of a Brighton councillor after he referred to soldiers as "hired killers" on Armed Forces Day.
Roads were closed and thousands of people turned out to watch the The Princess of Wales' Royal Regiment (PWRR) march in the city on Saturday.
But Green councillor Ben Duncan tweeted he found the occasion hard to explain to his nine-year-old son.
He has now apologised, saying his remarks were taken out of context.
The tweet read: "Armed Forces Day has certainly brought the hired killers on to the streets of Brighton today. Hard to explain to my son."
It provoked outrage on the social media site, with responses including: "These hired killers, as you put them, are heroes. You should be proud of our forces not insulting them. Disgusted."
Labour councillor Adrian Morris tweeted that the Green Party should ask him to resign.
Green MP for Brighton Pavilion, Caroline Lucas, tweeted that Mr Duncan's remarks were deeply offensive.
Mr Duncan said on Monday he understood that some people might find his views strange and that it was insensitive to people who had lost loved ones in armed conflict.
"I apologise for that," he said.
"There was never any intention to cause any offence. It was part of a broader conversation with my son which was put on Twitter and that has been taken out of context."
Mr Duncan also had to apologise for a tweet he sent two years ago in which he said he only smoked cannabis when "murdering, raping and looting".
He made the remarks in May 2012 in a Twitter discussion about cannabis cafes but later apologised for mentioning rape in a "light-hearted" way.