Funds boost for Beachy Head suicide search team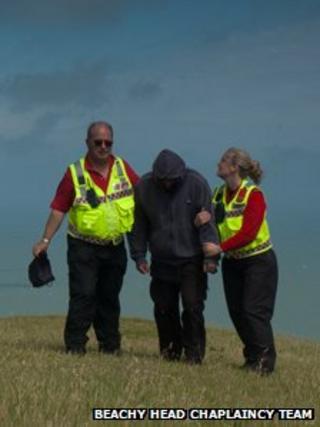 A specialist team set up to prevent suicides at Beachy Head in East Sussex has said its immediate future is secure despite having to make redundancies.
The Beachy Head Chaplaincy Team had faced a shortfall in funding coupled with increased demand for its services.
Mark Pybus, director, said it was no longer under threat after the public responded to an appeal for donations.
However, he said the team was saddened to be losing three paid staff members in order for its work to continue.
"This will place challenges on those staff and volunteers remaining," Mr Pybus said.
The Beachy Head Chaplaincy Team (BHCT) has been credited with saving hundreds of lives in the 10 years since it was set up.
It said the shortfall in funding coincided with increased demand for its services.
'Despondent or suicidal'
The cliffs at Beachy Head form the eastern end of the South Downs National Park, and at 530ft (161m) above sea level are a notorious suicide spot.
The team works closely with Sussex Police and the coastguard, and last year said it prevented 364 suicides.
Last week, it was involved in 11 searches resulting in the rescue of six people who were either "despondent or suicidal".
Staff and volunteers patrol the cliff tops in 4x4 vehicles and on foot for more than 100 hours a week, but Mr Pybus said the loss of some staff would not mean any reduction in cover.
The redundancies take effect from Tuesday, leaving the team consisting of a further three paid members of staff and 13 volunteers.