Hospital staff arrange cancer patient's wedding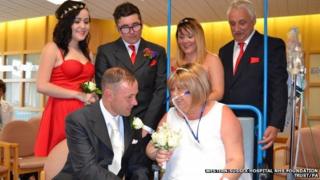 Hospital staff came to the rescue of a bride who feared she would miss her big day because of her cancer treatment.
Joann Howells, 46, had resigned herself to postponing her wedding to Neil Ward, 45, because she was stuck in hospital.
But after she told staff at Worthing Hospital, West Sussex, of her disappointment, they ensured she got her wish on their planned day, 20 June.
An emergency licence was granted to enable the couple to wed in the hospital chapel.
A radio appeal led to flowers, decorations, food and drink being donated by businesses.
Hospital chefs baked the wedding cake and supplied food for the reception, which was held in a day room at the hospital.
'Just overwhelming'
Nurses and other staff worked through their lunch breaks to ensure the rooms were transformed, including scattering rose petals on the chapel floor.
Ms Howells, from East Preston, said: "It was so special, just overwhelming, with everybody helping to make our day come together.
"I wanted to go home so I could get married. I was just thinking I was stuck in hospital and then they just did it all for us."
Mr Ward said: "We cannot thank people enough. You don't realise how kind people are until something like this happens. It is really, really amazing."
The service was led by assistant chaplain, the Reverend Lynda Rowlinson, whose theme for her address was "love is kind".
She said: "It was a very special day, especially because the bride is so poorly, and knowing the great challenge they are facing in their marriage."
Ms Howells returned home on Thursday following eight days in hospital.
Her daughter Jessica Kelleway, 23, said: "They could not have put a bigger smile on her face."